Anleitung für den Bestellvorgang bei der Online-Apotheke
ANLEITUNG FÜR DEN BESTELLVORGANG BEI DER ONLINE-APOTHEKE
Bevor es losgeht:
Bitte PrEP nur unter Beaufsichtigung und nach Beratung durch einen HIV-Schwerpunktarzt einnehmen. Für gesundheitliche Details siehe z.B. das deutsche Infoportal http://prep.jetzt/
Diese Apotheke bietet zwei PrEP-Generika an, die direkt von Großbritannien (UK) aus verschickt werden. Die Inanspruchnahme einer Paketweiterleitung entfällt somit, da der Versand innerhalb der EU erfolgt. Diese Anleitung bezieht sich auf diesen Versandweg.
Möchtest Du ein anderes Produkt kaufen, welches nicht von UK aus verschickt werden kann,brauchst Du eine Lieferadresse in Großbritannien. Ideal ist dafür ein Freund, Bekannter, Verwandter oder alternativ ein Paketweiterleitungsservice, der die Medikamente dann nach erfolgter Anlieferung an Dich weiterschickt (Hinweis: Borderlinx hat seinen Dienst Juni 2018 eingestellt).
Die Bezahlung kann sowohl per Onlinebanking (IBAN EU-Überweisung, EFT) als auch Kreditkarte erfolgen. Bei manchen Banken oder Sparkassen muss die Überweisung auf EUKontenggf. erst noch freigeschaltet werden. Bei Kreditkarten kann ebenso ein zusätzlicher Schutz während der Bezahlung verlangt werden (bei Mastercard z.B. "Securecode" genannt). Achte darauf, diese Daten parat zu haben.
Hinweis: Sowohl mit dem Safari-Browser, vielen Smartphones sowie dem iPad funktioniert die Webseite für den Bezahlvorgang nicht korrekt und der Bezahlvorgang kann daher nicht durchgeführt werden. Bitte auf alternative Browser wie Chrome oder Firefox ausweichen!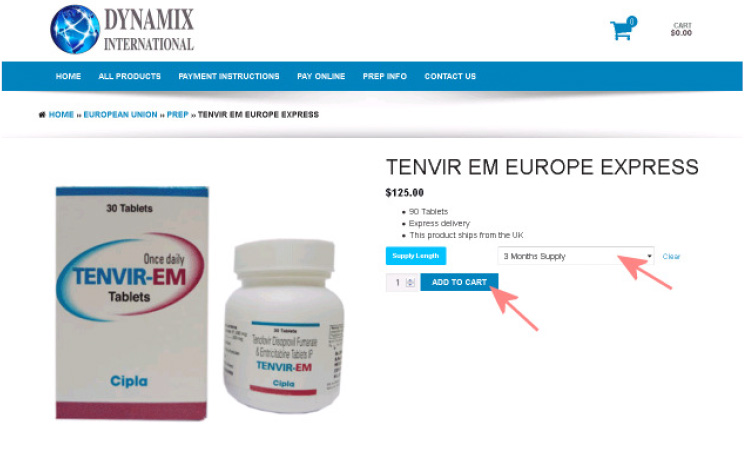 Öffne die Webseite von Dynamix und wähle als "Shipping Country" die Option "European Union".
Füge das gewünschte Produkt dem Warenkorb hinzu, hier auf dem Bild als Beispiel "Tenvir-EM".
Hinweis: Alle Pfeile zeigen auf die entsprechende Optionen oder Hinweise, die Du beachten bzw. eintragen oder anklicken musst.
Öffne anschließend mit "View Cart" den Warenkorb.Öffne anschließend mit dem Knopf "View Cart" den Warenkorb. Ist alles soweit korrekt einfach auf "Proceed To Checkout" klicken (hier nicht dargestellt).
Im nächsten Schritt dann Deine Lieferanschrift, eMail-Adresse und Telefonnummer eintragen. 
Optional kannst Du auch einen dauerhaften Kunden-Account anlegen.
Hinweis: Solltest Du eine Paketweiterleitung in Anspruch nehmen, auf der rechten Seite unter "Ship to different address" die entsprechende Adresse eintragen.
Den Haken bei "Accept Terms & Conditions" setzen und auf "Place Order" klicken.
Im folgenden Fenster (hier nicht dargestellt) dann noch auf "Pay Online" klicken, um den Bezahlvorgang zu starten.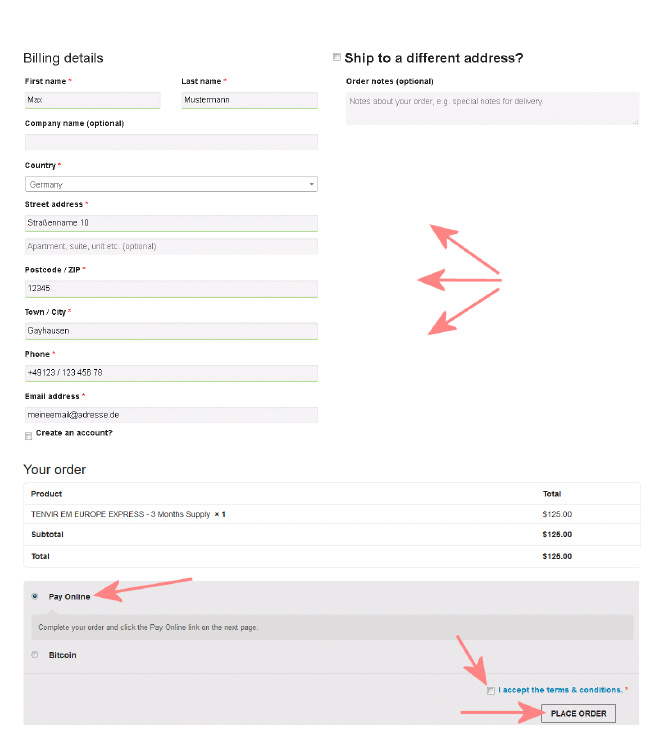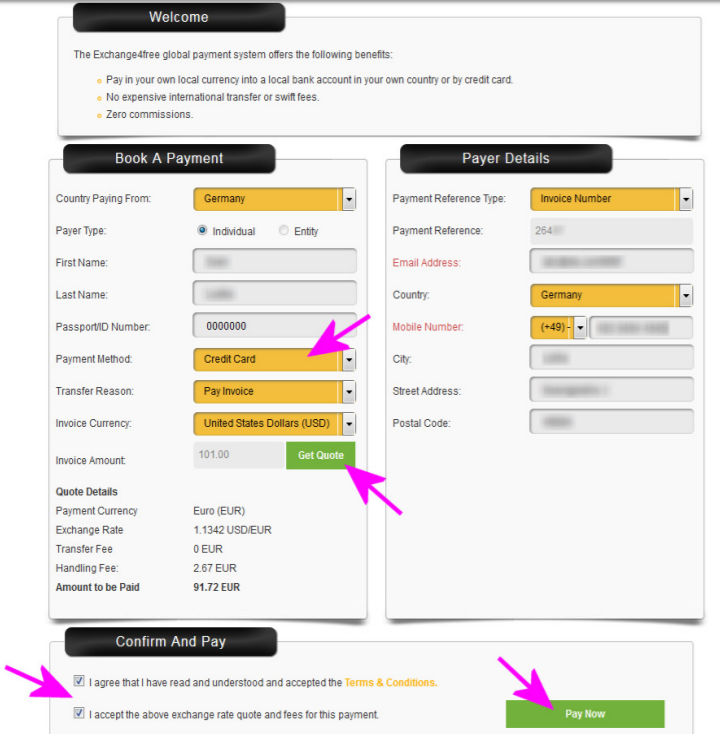 Jetzt die linke Hälfte vom Formular wie auf dem Screenshot zu sehen ist
ausfüllen bzw. auswählen (Passport-Feld mit sieben Nullen ausfüllen). 
Kreditkarte oder Überweisung (EFT) auswählen.
Bei Bezahlung mit Kreditkarte unbedingt Deine Ausweisnummer ins Passportfeld eintragen!
Die Summe ist bereits vorgegeben, daher nur noch auf "Get Quote" klicken. Etwas warten. 
Jetzt das Formular auf der rechten Seite ausfüllen. Das Feld "Payment Reference" ist bereits schon ausgefüllt. 
Deine eigene Anschrift und Handynummer eintragen. 
Die Haken setzen und "Pay Now" anklicken.
Bei Bezahlung mit der Kreditkarte:
Die Daten von Deiner Kreditkarte eintragen und auf "Pay" klicken. Es folgt ggf. eine erweiterte Sicherheitsabfrage von Deinem Kreditinstitut (bei Mastercard z.B. "Securecode" genannt). 
Bei Bezahlung via Onlinebanking(E.F.T.):
Den entsprechenden Betrag unter dem in roter Schriftfarbe angegebenen 
Verwendungszweckes ("Deposit Reference") auf das IBAN-Konto überweisen (hier nicht als Screenshot dargestellt).